University of Washington Summer Classical Guitar Workshop

The 2020 Classical Guitar Summer Workshop is canceled due to public health advisories on social distancing and following University of Washington guidelines. Check back next year for 2021 Workshop details.
The following details are from last year's workshop for informational purposes only. Details are subject to change.
---
An immersive guitar experience with workshops, lectures, masterclasses and ensemble preparation, open to guitar enthusiasts of all ages and levels of experience.
Early Bird 20% Discount Pricing before June 1:
General - $160.00
Student - $120.00
Workshop activities will run from 9 AM to 5.30 PM Friday and Saturday with faculty concerts at 7.30 PM.
Sunday activities begin at 9 AM with the final student concert in the afternoon.
DOWNLOAD FULL WORKSHOP SCHEDULE
---
Learn from the best!
Dr. Lynn McGrath is being heralded as a phenom. Blending expressive musicianship with her passion for Spanish Language, literature, and theater, she has shared the poetry and music of "Platero y yo" with audiences on 4 continents in the role of both guitarist and narrator. "…wonderful timing, poise, wit, and grace, while getting a full rich sound from her guitar. Anyone who loves either music or poetry would have been charmed, but those who appreciate both, not to mention stage presence and acting skills, were electrified by this tour-de-force of artistic multi-tasking. —Richard Long, Soundboard.
While living in Albuquerque, Lynn established a guitar program at Sandia Preparatory School, taught at Central New Mexico Community College and the University of New Mexico's Prep School. She is Director of Regional Symposia for the GFA and Artistic Director of the organization's International Youth Competition. Her students have received scholarships to some of the best schools in the nation, won prizes in international competitions, and featured on NPR's "From the Top". In 2016, Lynn taught at Oklahoma City University and is currently on faculty at the Eastman Community Music School, University of Rochester, NY.
Dr. Connie Sheu is a dynamic guitarist, devoted teacher, and ardent advocate of classical guitar. In demand as both a soloist and chamber musician, her playing has been hailed by the New York Sun as "excellent, ruminative... scholarly." According to Classical Guitar Magazine, "Her debut recording displays, without a doubt, her talents as a concert artist." Past performances have brought her to Lincoln Center's Alice Tully Hall, 92nd StY, Merkin Hall, Carnegie Hall's Weill Recital Hall; venues in Moldova, Italy, Hungary; and across the United States. She is a frequent performer on various concert series and music festivals, and has most recently appeared at the Women in Guitar Festival, New York Guitar Festival, and Guitar Foundation of America International Convention.
Connie studied U.S. History and Music at Columbia University, and earned a Master of Music from the Juilliard School. She completed her Doctorate of Musical Arts at the University of Southern California under William Kanengiser and Pepe Romero. She also studied under scholarship at the Accademia Musicale Chigiana with Oscar Ghiglia in Siena, Italy.
Connie serves as General Manager for the Guitar Foundation of America and teaches at the Colburn School, Vanguard University, and online with Classical Guitar Corner.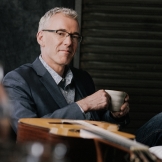 Michael Partington is currently Artist in Residence and director of the guitar program at the University of Washington in Seattle. He has appeared throughout North America, Europe, Russia and Scandinavia as a soloist and with ensembles, and has performed live on radio in the US and UK including BBC Radio 3's In Tune, BBC Wales, and St. Paul Sunday on National Public Radio. He has released nine solo CDs for Rosewood Recordings. He has been teaching guitar since the age of 17, and has given classes and workshops at festivals and institutions around the world, including the Royal College of Music in London, the Royal Conservatory in Gothenburg, Sweden, the San Francisco Conservatory, the Guitar Foundation of America, the Canadian National Confederation of Music Societies, and the International Guitar Research Centre at the University of Surrey in Guildford, UK.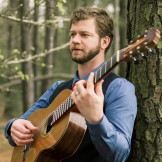 Jon Paul Yerby is revered as an international performing artist and educator. He has held teaching positions at the University of Utah, Westminster College, and Utah Valley University, among others. A graduate of the University of Texas at Austin, New England Conservatory, and Florida State University, Dr. Yerby's teachers and mentors include Eliot Fisk, Oscar Ghiglia, Adam Holzman, and Bruce Holzman.  Recent performances have brought Yerby to the Dominican Republic, Peru, Germany, and venues across the United States. Jon recently accompanied the internationally acclaimed Limón Dance Company in a performance of Limon's celebrated work, Chaconne set to the Bach Chaconne. He has additionally collaborated with Ririe-Woodbury Dance Company, Utah Opera, Sting, Park City's Beethoven Festival, and dance artists Alexandra Bradshaw and Bradley Beakes. 
An in-demand teacher, Michael Millham maintains studios at Eastern Washington and Gonzaga Universities.  He is a repeat host/director of the Northwest Guitar Festival, and has been a featured performer for numerous regional festivals including the Northwest Guitar Festival, the Northwest Bach Festival, the Festival at Sandpoint, with the Spokane Symphony Orchestra, and Northwest Folklife's guitar showcase in McCaw hall, among others. Michael has been profiled in the magazine Acoustic Guitar and is a regular contributor to the same. He has also written for Guitar Teacher and Play Guitar! Michael has worked as either an endorser or performing artist for Elixir strings, Lowden Guitars, Schoenberg Guitars,  L.R. Baggs electronics and AER amps. He and his wife, vocalist Keleren Millham, perform regularly at a wide variety of venues, with over 2,000 performances to date. In 1999, Michael was one of eight recipients selected nationally for Jim Beam Brand Worldwide's Benefiting Emerging Artists in Music grant. He is a graduate of the Lionel Hampton School of Music-University of Idaho.
Kevin Callahan is a guitarist, composer and teacher residing in Seattle. At home in a variety of music genres, Kevin has per- formed or recorded with groups including the Assad Brothers, Seattle Symphony, the Seattle Guitar Quartet, Seattle Guitar Trio, Dave Koz, Arnold McCuller of the James Taylor band, Greg Adams of Tower of Power, Roger Fisher of Heart, Rita Coolidge, and others. His compositions for classical guitar have been performed around the globe in venues such as Carnegie Hall, New York Metropolitan Museum of Art, Tchaikovsky Concert Hall in Moscow, Benaroya and others. His most recent work is a commission by the Aaron Shearer Foundation for the US Guitar Orchestra to be premiered at Carnegie Hall June 23, 2019. His pieces are published by Yesler Way Music, Henry Lemoine Edi- tions and Doberman Editions.
---
Schedule Highlights
Workshop activities will run from 9 AM to 5.30 PM Friday and Saturday with faculty concerts at 7.30 PM.

Sunday activities begin at 9 AM with the final student concert in the afternoon.
---
Additional Information
PARKING: The workshop will take place in the Music Building at the University of Washington in Seattle. The closest parking garage to the Music Building is Padelford Garage.
DINING: There are many dining options available on campus. View a full listing of campus dining options here.
HOUSING: Campus housing is available for workshops participants. Please note that guests under the age of 18 *must* be accompanied by a chaperone. Learn more about campus housing options here.
---
Contact Us 
Any questions? Email Michael Partington at guitar@uw.edu