A day of masterclasses*, discussion, and performance celebrating the Oboe
Hosted by Mary Lynch, UW oboe instructor and Seattle Symphony principal oboe
With guests Laila Storch, Alain de Gourdon, Ariana Ghez Farrell, Jennifer Spier, Donna Shin, Richard Karpen, David Rahbee, and others
*Note: masterclasses will follow the traditional format in which pre-selected students perform a piece and receive instruction from the teacher in front of an audience. Attendees are given an opportunity to observe another student's lesson. Performance spots in Oboe Day masterclasses are currently full; by registering for this event, you are invited to attend as an auditor.
---
Sunday, October 22, 2017
FREE ADMISSION
Brechemin Auditorium, Music Building
University of Washington, Seattle Washington
to register, email Mary Lynch at: mloboe@uw.edu 
please include your name, number in your party, and any dietary restrictions you may have
---
Schedule Highlights
Time
Event
9:30 AM
Check-in begins
10 AM
Masterclass with Mary Lynch. Student performances by 

Isaac Miller, Kieran Matz, and Vedrana Ivezic.

11 AM
Lorée Lore with Alain de Gourdon and Special Q&A with Laila Storch
12 - 12:30 PM
Informal Q&A about UW in Fishbowl with Mary Lynch, Richard Karpen, David Rahbee, and Donna Shin
12-2 PM

Free Lunch for Registered Participants in the Fishbowl, and time to try oboes and visit with Alain de Gourdon and Jennifer Spier from RDG Woodwinds.

2 - 4 PM
Masterclass with Ariana Ghez Farrell. Student performances by Logan Esterling,

Diego Espinoza-Masías

, Samuel Rockwood, and Ashley Ultsch. 
4 - 4:30 PM
Mini Repair Masterclass with Jennifer Spier
5 - 6 PM
Closing Recital
---
Speaker & Performer Bios
Mary Lynch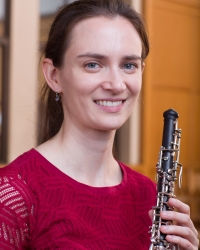 Oboist Mary Lynch joins the School of Music faculty in Fall 2015 as a part-time artist in residence in the instrumental performance program.
Principal oboe with the Seattle Symphony, she previously performed with the Cleveland Orchestra, holding the position of Second Oboe. She has toured internationally with both The Cleveland Orchestra and the Pittsburgh Symphony Orchestra. 
Originally from Washington, D.C., Lynch earned her M.M. at The Juilliard School, where she studied with Elaine Douvas and Nathan Hughes, and her B.M. from the New England Conservatory, where she studied with John Ferrillo. 
Her awards include The Juilliard School's William Schuman Prize and the Boston Woodwind Society's Ralph Gomberg Oboe Award. During recent summers, she has performed at the Marlboro Music Festival, Music Academy of the West and Tanglewood Music Center. Her performances at Marlboro have been heard across the country on American Public Media's Performance Today.
Donna Shin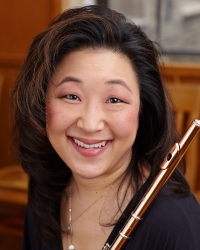 Flutist Donna Shin has been praised for her beautifully-spun phrases, seductive sound, sterling technique, and charismatic exchanges with the audience. Described as "dazzling" by the Boston Globe, Shin has built an enviable reputation as a versatile performer of solo, chamber, orchestra, jazz and ancient Asian repertoire. Performing in concert halls throughout the Americas, Europe and Asia, she is admired for her adventurous programming and expressive flair.
Devoted to the role of artist-teacher, she is the flute professor at the University of Washington School of Music after holding faculty posts at the University of South Carolina School of Music and Oklahoma State University. She frequently appears as artist-performer and master class clinician at universities and flute clubs throughout the world, modeling the artist-teacher path for young flutists.
Shin has been featured in solo performances with the North Korean National Symphony Orchestra, People's Liberation Army Band of China, Seattle Symphony Orchestra, Eastman Philharmonia, New England Conservatory Wind Ensemble, University of South Carolina Wind Ensemble, Oklahoma State University Wind Ensemble, and University of Washington Wind Ensemble. In 2010, Shin premiered D. J. Sparr's Precious Metal: Concerto for Flute and Winds in Seattle and cities throughout Japan and China. She recently premiered Hilary Tann's Shoji, a work for flute and oboe, at the University of Texas at Austin, D. J. Sparr's Fantasia for Flute and Electronics: Sugarhouse at the Third Practice Electroacoustic Music Festival at the University of Richmond, and performed Gabriela Frank's Illapa: Tone Poem for flute and orchestra with the Seattle Symphony Orchestra.
Shin performed for two seasons as principal flute with the Heidelberg Schlossfestspiele Orchester in Germany. In Boston, she performed with the Boston Philharmonic Orchestra, the New Bedford Symphony, and the Isabella Stewart Gardner Chamber Orchestras. She has also performed with the South Carolina Philharmonic, Tulsa Symphony Orchestra, New World Symphony, Tulsa Signature Symphony, Lake Placid Sinfonietta, Tanglewood Music Center, National Repertory Orchestra, Aspen Music Festival, National Orchestral Institute, and Norfolk Chamber Music Festival.
Shin has won prizes in competitions held by the National Flute Association, April Spring Friendship Arts Festival in North Korea, Performers of Connecticut, James Pappoutsakis Society, and Seattle Flute Society, to name a few. As a founding member of Paragon Winds woodwind quintet, she was awarded fellowships from the New England Conservatory and Yale University's Norfolk Chamber Music Festival, and won the Grand Prize at the Coleman National Chamber Ensemble Competition in Pasadena, California.
Committed to developing young artists and reaching out to audiences, Shin has introduced new music programs to a variety of communities, ranging from rural Oklahoma to communist North Korea to castle communities in northern Italy. Recent international concert tours include: Brazil, China, Japan, and Uzbekistan.
Shin earned degrees with the highest honors from the Interlochen Arts Academy, Eastman School of Music and the New England Conservatory, including the esteemed Performer's Certificate at the Eastman School. As instructor of chamber music and flute at the University of Rochester and the Eastman School of Music, she was awarded the "Eastman School of Music Excellence in Teaching" prize. During her doctoral studies at Eastman, she became the first woodwind player in the school's history to be nominated for the highly coveted Artist's Certificate.
During the summer months, Shin performs as artist-teacher at the Bay View Music Festival in Michigan, ARIA International Summer Academy in Massachusetts, and Snowater Flute Festival in Washington. Her previous summer activities have included leadership of study abroad performance courses throughout the Veneto region of northern Italy and Young Artist Competition Coordinator for the National Flute Association.
Richard Karpen
Richard Karpen is a composer and researcher in multiple areas music and the arts. His compositions for both electronic media and live performance are widely known, recorded, and performed internationally. Over the last 30 years he has also been one of the leading pioneers in the development of computer applications for music composition, interactive performance, and sonic arts. He has recently returned to the stage as a pianist.
Karpen is currently Director of the School of Music at the University of Washington where he is also a Professor of Music Composition. He previously served at the UW as Divisional Dean for Research in the College of Arts and Sciences and Founding Director of the Center for Digital Arts and Experimental Media (DXARTS). He has been the recipient of many awards, grants, and prizes including those from the National Endowment for the Arts, the ASCAP Foundation, the Bourges Contest in France, and the Luigi Russolo Foundation in Italy. Fellowships and grants for work outside of the United States include a Fulbright to Italy, a residency at IRCAM in France, and a Leverhulme Visiting Fellowship to the United Kingdom. He received his doctorate in composition from Stanford University, where he also worked at the Center for Computer Research in Music and Acoustics (CCRMA). Karpen is a native of New York, where he studied composition with Charles Dodge and Gheorghe Costinescu.
Karpen has composed works for many leading international soloists such as soprano Judith Bettina, violist Garth Knox, trombonist Stuart Dempster, flutists Laura Chislett and Jos Zwaanenberg, guitarist Stefan Ostersjo, and oboist Alex Klein. Along with numerous concert and radio performances, his works have been set to dance by groups such as the Royal Danish Ballet and the Guandong Dance Company of China. Karpen's compositions have been recorded on a variety of labels including Wergo, Centaur, Neuma, Le Chant du Monde, DIFFUSION i MeDIA, Fleur du Son, and Capstone.
David Alexander Rahbee
David Alexander Rahbee is currently Senior Artist in Residence at the University of Washington School of Music in Seattle, where he is director of orchestral activities and teaches conducting. He is recipient of the American-Austrian Foundation's 2003 Herbert von Karajan Fellowship for Young Conductors, the 2005 International Richard-Wagner-Verband Stipend, and the Acanthes Centre in Paris in 2007.
Dr. Rahbee has appeared in concert with orchestras such as the RTE National Symphony Orchestra of Ireland, Orchestre Philharmonique du Luxembourg, Kammerphilharmonie Berlin-Brandenburg, Orchestre de la Francophonie, Orchesterakademie der Bochumer Symphoniker, the Dresden Hochschule orchestra, Grand Harmonie, the Boston New Music Initiative, Orquesta Sinfónica de Loja (Ecuador), Armenian Philharmonic Orchestra, Savaria Symphony Orchestra (Hungary), Seattle Modern Orchestra, Cool Opera of Norway (members of the Stavanger Symphony), Schönbrunner Schloss Orchester (Vienna), the Whatcom Symphony Orchestra, the Kennett Symphony, and the Divertimento Ensemble of Milan. He collaborated twice with the Seattle Symphony in 2015, as off-stage conductor for Ives' Fourth Symphony (recorded live), and as guest conductor for their Native Lands project. He has collaborated with several prominent soloists such as violinists Sarah Chang, David Chan (concertmaster of MET opera orchestra), and Joseph Lin (Juilliard String Quartet). He has been been a guest rehearsal conductor for numerous young orchestras, such as the New England Conservatory Symphony Orchestra, The Symphony Orchestras of the Hall-Musco Conservatory of Music at Chapman University, and the Vienna University of Technology orchestra, the Boston Youth Symphony Orchestras (BYSO), and Rhode Island Philharmonic Youth Orchestras (RIPYO). He has also served of faculty of the Pierre Monteux School as Conducting Associate, and has been resident conductor of the Atlantic Music Festival in Maine.
Dr. Rahbee was an assistant at the Vienna State opera from 2002-2010. As part of his fellowship and residency at the 2003 Salzburg Festival, Dr. Rahbee was assistant conductor of the International Attergau Institute Orchestra, where he worked with members of the Vienna Philharmonic. He has been selected to actively participate in masterclasses with prominent conductors such as Kurt Masur, Sir Colin Davis, Jorma Panula, Zdeněk Mácal, Peter Eötvös, Zoltán Peskó, and Helmut Rilling, and counts Nikolaus Harnoncourt to be among his most influential mentors. From 1997-2001, David Rahbee was conductor of the Fidelio Chamber Orchestra in Cambridge, Massachusetts, selecting its talented young members from Harvard University, the New England Conservatory, and Boston University. From 1997 to 2000, he served as assistant conductor of the Atlantic Symphony Orchestra (formerly known as the Hingham Symphony) in Massachusetts.  
Dr. Rahbee's principal conducting teachers were Charles Bruck and Michael Jinbo at the Pierre Monteux School.  He holds a Bachelor of Music degree in violin and composition from Indiana University, a Master of Music degree from the New England Conservatory in orchestral conducting, and a Doctorate of Musical Arts from the University of Montreal in orchestral conducting.  He has also participated in post-graduate conducting classes at the Universität für Musik und Darstellende Kunst, Vienna. His arrangements for brass are published by Warwick Music, England, and his articles on the music of Gustav Mahler have appeared in journals of the International Gustav Mahler Gesellschaft, among others. Dr. Rahbee's was a semi-finalist in the American Prize for Conducting, in the category of Orchestral Programming at the university level for the 2013-14 school year.
Laila Storch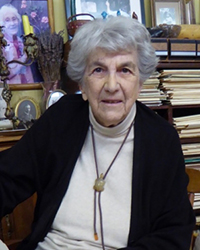 Laila Storch is an American oboist and the first woman oboist to graduate from the Curtis Institute in Philadelphia, where she studied with Marcel Tabuteau. 
Storch was the principal oboist for the Houston Symphony Orchestra, Carmel Bach Festival, the Bethlehem Bach Festival, Marlboro Music Festival and the Casals Festivals. Additionally, she played with the National Symphony Orchestra, the Kansas City Philharmonic, and the Puerto Rico Symphony Orchestra. She has also been professor of oboe at the Conservatory of Music of Puerto Rico, for many years at the University of Washington and guest professor at Indiana University as well as the Central Conservatory of Music, Beijing. She is one of the longest serving members of the Soni Ventorum Wind Quintet.
Storch has published a biography of Marcel Tabuteau, longtime Curtis Institute faculty member and world-renowned solo oboist (1915-1954) of the Philadelphia Orchestra.
Ariana Ghez Farrell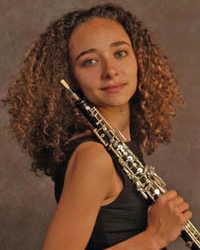 Ariana Ghez Farrell was principal oboe of the Los Angeles Philharmonic from September 2006 until June 2017.  Prior to her appointment in Los Angeles, Ghez was principal oboe of the Rochester Philharmonic Orchestra and of the Santa Fe Opera. She has also performed as guest principal oboe with the Chicago Symphony Orchestra, the New York Philharmonic, and the St. Louis Symphony Orchestra. 
As a soloist, Ghez has performed with the Los Angeles Philharmonic, the Rochester Philharmonic, the New York String Orchestra at Carnegie Hall, the Redlands Symphony Orchestra, the Simon Bolivar Youth Orchestra in Caracas, the Aspen Music Festival, among many others, and can be heard playing Bach's Oboe and Violin Concerto, with violinist Lara St John on Ancalagon Records.
An avid lover of chamber music, Ghez performed frequently with her Los Angeles Philharmonic colleagues and guests on the chamber series at Disney Hall as well as the Salastina Chamber Music Society in Los Angeles. Other chamber engagements include collaborations with Jaime Laredo and Ida Kavafian (92Y), Gil Shaham (Aspen Music Festival), and Pinchas Zuckerman (with the Rochester Philharmonic).  She has performed with La Jolla Summerfest, the Mainly Mozart Festival (San Diego), Santa Fe Chamber Music Festival, Chamber Music Rochester, and the Colorado College Music Festival. Ghez has participated in numerous festivals, including the Marlboro Music Festival in Vermont and the Tanglewood Music Center.
Ghez was on the faculty of the Colburn School from September 2014 until June 2017, and frequently serves as guest faculty at the Aspen Music Festival. She has given master classes at Oberlin Conservatory,  Peabody Institute, University of Southern California, San Francisco Conservatory, and Kent/Blossom Summer Festival, among others.
Ghez holds a bachelor's degree in English literature from Columbia University, where she was enrolled in the Columbia/Juilliard School joint program and studied with John Mack and John Ferrillo. She pursued graduate studies at Temple University in Philadelphia, where she studied with Richard Woodhams and was an oboe teaching assistant.
Jennifer Spier
Jennifer Spier is an active and versatile freelance oboist in the Los Angeles area. She graduated magna cum laude and Phi Beta Kappa from Pomona College in 1999, where she earned a Bachelor of Arts in music and a minor in economics. At Pomona, she was a recipient of both the William F. Russel Prize and the William G. Blanchard Memorial Prize in music. Ms. Spier completed her Master of Music degree in oboe performance at the University of Southern California in 2003, earning the Pi Kappa Lambda Award and a Thornton School of Music Dean's Scholarship. Her principal oboe instructors have included Allan Vogel, Leslie Reed, Salvatore Spano and Neil Black, and she has had additional training from John Mack, David Weiss and Harry Sargous.
Ms. Spier enjoys performing with a great variety of large and small ensembles. Past engagements have included Pacific Symphony, Santa Barbara Chamber Orchestra, Santa Cecilia Orchestra, Thousand Oaks Philharmonic, Rio Hondo Symphony Orchestra, Calabasas Chamber Orchestra, Antelope Valley Symphony, San Fernando Valley Symphony, Brentwood-Westwood Symphony, and many more. She was a member of the American Youth Symphony for three years, performing with the group at Carnegie Hall, Disney Hall, and the Dorothy Chandler Pavilion. Ms. Spier has participated in several music festivals around the country, including the Music Academy of the West, Norfolk Chamber Music Festival, Henry Mancini Institute, and the International Festival-Institute at Round Top. In the summer of 2007, she joined the Multi-Ethnic Star Orchestra (MESTO) for their concert tour to Jordan where she performed non-Western music in Amman and at the Jerash Festival.
Ms. Spier has been teaching oboe privately for over fifteen years and joined the faculty of the Colburn School's Community School of Performing Arts in 2006. She has coached woodwind players at various high schools, youth orchestras, and at Arrowbear Music Camp, and has adjudicated at youth orchestra auditions. In addition to her performance and teaching activities, Ms. Spier is also an accomplished oboe repairwoman. She regularly maintains and repairs the instruments of many of Los Angeles' top orchestral and studio oboists.