In addition to degree pathways in vocal performance, the School of Music supports a range of auditioned and non-auditioned choirs—seven in all—open to majors and non-majors from throughout the university.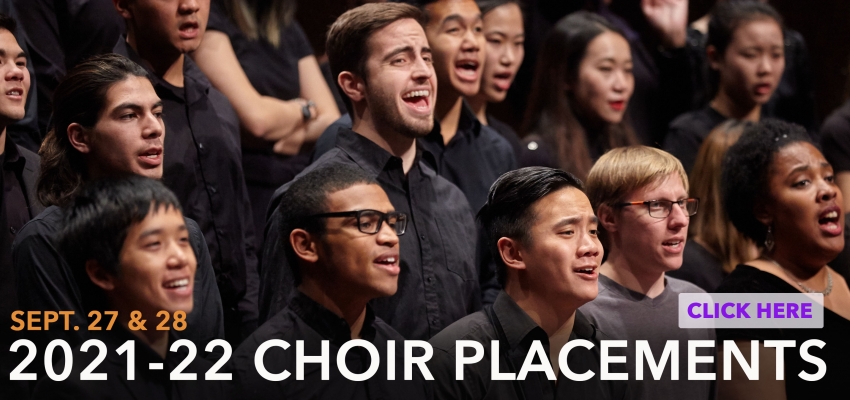 The University of Washington's choral community is a lively mixture of graduate conducting students, teachers-in-training, and vocalists exploring diverse musical experiences under the guidance of nationally noted choral pedagogues. The academic degree programs in choral conducting, teacher certification coursework offered through the Music Education program, and the UW's array of choral ensembles open to majors and non-majors from throughout the university create a rich environment for scholarship and performance in the choral arts.
Performance Opportunities
The UW's choirs present a range of performance opportunities for singers of every level of interest and ability. Choirs present concerts on campus and at churches and halls throughout the city, in addition to special high-profile appearances at some of Seattle's top concert venues and conferences of the American Choral Directors Association and other professional organizations. The Chamber Singers and University Chorale, together and separately, have also undertaken several international tours of the Baltic region, performing for dignitaries, making prominent appearances at song festivals and cathedrals, and collaborating with choral groups in the region. Recent collaborations have included work with the renowned Kronos Quartet, the Seattle Symphony, Sapience Dance Collective, It Gets Better touring company, songwriter Imogen Heap, and visual artist Ann Hamilton, among others.
Choral Conducting
Students in the graduate choral conducting program are immersed in a hands-on, individually focused conducting experience centered on forward-thinking research in technique and pedagogy. Areas of interest in faculty research include Laban movement theory for conductors, Baltic choral repertoire, new music, and gesture and expressivity in choral conducting.
Students receive conducting, teaching, and leadership opportunities each quarter in residence through work with ensembles, choral festivals, visits from renowned choral scholars, and international touring.
Non-Major Voice Lessons
Students who are not majoring in music but who are interested in taking private voice lessons with faculty or with a TA are welcome to audition! Yearly auditions occur in September each year for admission into a voice studio beginning Fall term. More audition information can be found on the Audition Dates page. To inquire about auditioning for non-major lessons mid-year, please contact Dr. Wyers at wyersg@uw.edu. 
Lessons are offered on a space-available basis in faculty and TA studios and occur weekly over the course of the academic year.  If admitted to voice lessons, students will be given a faculty code to register for MUSICP 300. In addition to tuition, non-major lessons require a $550 course lesson fee.