Associate Director; Associate Professor, Drums; Donald E. Petersen Fellowship for Excellence, Jazz Studies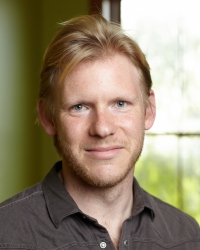 Biography
Ted Poor is a Seattle-based drummer whose adventurous, soulful playing has vaulted him to the stages of some of today's most important musicians and placed him amongst those drummers most in demand. After graduating from the Eastman School of Music in 2003, Ted moved from his hometown of Rochester, NY to New York City, where he quickly made a deep impression on its jazz and indie-rock music communities. In his ten years in NYC Ted appeared on dozens of recordings and shared the stage with many world-renowned artists such as Bill Frisell, Pat Metheny, Kurt Rosenwinkel, Cuong Vu, Ben Monder, Myra Melford, Mark Turner, Gabriel Kahane, My Brightest Diamond, Aaron Parks, and Ralph Alessi.
Now a resident of Seattle, Ted has joined the band of Los Angeles based singer/song-writer Andrew Bird; appearing on and touring the albums Are You Serious and My Finest Work Yet (Loma Vista/Concord). As his presence in the Los Angeles music community has grown, Ted has collaborated with producers and artists such as Michel Froom, Blake Mills, Tony Berg and Madison Cunningham – appearing on Cunningham's recent release Who Are You Now (Verve). Ted also performs regularly on the live radio broadcast of Live From Here with Chris Thile.
In the fall of 2018, Ted signed with record label New Deal (Verve/Universal) and is currently finishing his debut release You Already Know, a collaboration with saxophonist Andrew D'Angelo and producer Blake Mills. Ted is currently an Assistant Professor of Jazz Studies at the University of Washington in Seattle. Ted endorses C&C Drums.