Chair, Composition; Donald E. Petersen Endowed Professor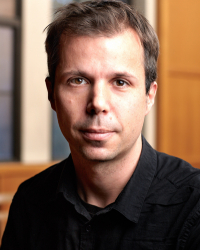 Contact Information
Office Hours:
M: 8:30-9:30 (on Zoom) | Book at https://calendly.com/huckhodge/office-hours
Biography
Doctor of Musical Arts, Columbia University, 2008
Huck Hodge is professor and chair of the composition program in the school of music. A composer of "harmonically fresh work", "full of both sparkle and thunder" (New York Times), his music has been praised for its "immediate impact" (Chicago Tribune), its "clever, attractive, streamlined" qualities (NRC Handelsblad, Amsterdam), and its ability to "conjure up worlds of musical magic" with "power and charisma" (Gramophone Magazine, London). There is a dramatic interplay of color, light, and darkness in his music, which emerges from an uncanny blending of pure and dissonant harmonies, widely spaced orchestrations and vast, diffuse timbres. 
Hodge is the recipient of many prestigious awards and distinctions. Among these is the Charles Ives Living, the largest music award conferred by the American Academy of Arts and Letters. His other major awards include the Rome Prize (Luciano Berio Fellowship), the Gaudeamus Prize, a Guggenheim Fellowship, commissions from the Koussevitzky Foundation in the Library of Congress, the Fromm Foundation at Harvard University, the American Composers Forum (JFund), the Barlow Endowment, Music at the Anthology (MATA), the American Academy in Rome, Muziek Centrum Nederland, Musik der Jahrhunderte, and the National Theater and Concert Hall of Taiwan, in addition to multiple grants and awards from ASCAP, the Bogliasco Foundation, Copland House, the Deutscher Akademischer Austauschdienst (DAAD), MacDowell, New Music USA, the Siemens Musikstiftung, and Yaddo.
His music has been performed at Carnegie Hall, Lincoln Center and at numerous major festivals — the New York Philharmonic Biennial, Berliner Festspiele, Gaudeamus Muziekweek, Shanghai New Music Week (上海当代音乐周), ISCM World Music Days, and many others in over twenty countries on six continents. Other performances include those by members of the Berlin Philharmonic and Ensemble Modern, the ASKO / Schönberg Ensemble, the Seattle Symphony, and the Orchestra of the League of Composers. His chamber music has been premiered, performed and recorded by a long list of soloists and ensembles such as the Daedalus, JACK, Mivos, and Pacifica string quartets, the Adapter, Aleph, Argento, Dal Niente, Divertimento, Insomnio, SurPlus, and Talea ensembles, and his colleagues David Gordon, Donna Shin, Cristina Valdés, Cuong Vu, and Bonnie Whiting. His published music is distributed by Alexander Street Press (US) and Babel Scores (France). Recordings of his music appear on the New World and Albany record labels and have been featured in numerous national and international broadcasts.
Before joining the University of Washington, Hodge taught composition at Columbia University, where he earned his M.A. and D.M.A. studying with Fred Lerdahl, George Lewis, and Tristan Murail. Prior to this, he studied composition, theory, and new media at the Staatliche Hochschule für Musik und Darstellende Kunst in Stuttgart, Germany, with Marco Stroppa and Georg Wötzer as well as music, German literature and philosophy at the University of Oregon and the Universität Stuttgart. He has been a visiting professor/invited lecturer on music and aesthetics at a variety of institutions including the University of Chicago, CNMAT/UC Berkeley, UCSD, Columbia University, Eastman School of Music, Manhattan School of Music, NYU, and the Universität der Künste in Berlin, and he served for three years as the director of the Merriman Family Young Composers Workshop at the Seattle Symphony.
Resources and Related Links:
Professional Affiliations:
Society of Fellows of the American Academy in Rome, John Simon Guggenheim Memorial Foundation, American Society of Composers, Authors and Publishers