Submitted by Joanne De Pue on
Erin Conor, Music Library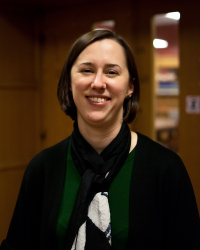 Long-time patrons of the UW Music Library may notice the new head of the Music Library, Erin Conor, looks familiar. That's because her new role represents a bit of a homecoming for Conor, who earned graduate degrees in music history and library and information science at the UW in the mid-2000s.
Most recently the performing arts librarian at Reed College in Portland, Conor earned an MA in Music History (2006) and and MLIS in Library and Information Science (2008) at the UW, working  as a student employee in the Music Library under the supervision of former head Judy Tsou, who retired in September after 17 years as head of the Music Library. (Read more here).
In her new role, Conor is charged with continuing the steadfast progress made by Tsou in digitizing collections and improving archiving practices, developing collections, cultivating private support and engaging in outreach and publication. Conor brings to this work interests and strengths in collection development, information literacy and accessibility, among other areas.
Prior to her appointment at Reed, Conor worked at the University of California, Irvine, where she was the research librarian for the performing arts. At Reed, she managed all aspects of the Performing Arts Resource Center, a branch library and computer lab with collections in music, dance, and theatre, and collaborated with music faculty to integrate information literacy into assignments for required courses.
John DiCesare, tuba
Seattle Symphony principal tuba John DiCesare Joins the School of Music faculty this fall as the UW's new tuba instructor. DiCesare's appointment as a part-time artist-in-residence in the instrumental performance program is effective as of Fall 2017. Previously, DiCesare served as principal tuba of the Louisville Symphony and numerous chamber groups as well as teaching master classes and private lessons nationally.
DiCesare has performed with orchestras nationwide; notably the Cleveland Orchestra, Cincinnati Symphony, Philadelphia Orchestra, Pittsburgh Symphony, and the St. Louis Symphony. 
An avid chamber musician and soloist, DiCesare is a founding member of the Pittsburgh Tuba Project and Iron City Brass Quintet. Iron City Brass was a quarter finalist in the Fischoff International Chamber competition in 2012. 
DiCesare holds degrees from Duquesne University, Kent State University, and is in the final stages of his Doctorate of Musical Arts at West Virginia University, where he held the prestigious Swiger Fellowship. His teachers include Craig Knox, Tom Lukowicz, and John Bottomley.