DMA Student, Instrumental Conducting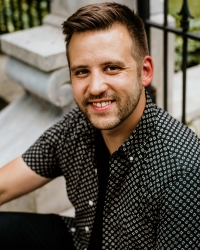 Biography
Full CV:

Download as PDF
(150.28 KB)
As a conductor, trumpet player, and educator, Shaun Day enjoys sharing his passion by working with a variety of music ensembles and creating a positive community through music. Shaun is completing his DMA in Instrumental Conducting at the University of Washington where he is the director and conductor for the UW Symphonic Band, and the associate conductor for the UW Wind Ensemble. He is also serving as the Conductor and Artistic Director for the Mukilteo Community Orchestra and enjoys connecting with local music educators in the Seattle area. Shaun continues to work as an ensemble clinician, guest conductor, and as a presenter at music education conferences, including the Washington Music Educators Association (WMEA) State Conference.
 Originally from Cincinnati, Ohio, Shaun earned his BM in Music Education with a concentration in trumpet performance, and his MM in Conducting from the University of Cincinnati, College-Conservatory of Music (CCM). During that time, he was the manager of the CCM Wind Symphony, CCM Brass Choir, the University Commencement Band, and a Graduate Assistant of the University of Cincinnati Bearcat Band. Shaun also served as the Associate Conductor of the University of Cincinnati Symphony Orchestra and Guest Conductor for the Fillmore Philharmonic Brass (OH).
 Before completing his MM, Shaun was the assistant band director at Turpin High School in Cincinnati. His duties included directing the high school concert bands, directing the high school jazz program, the musical theatre pit orchestra, assisting and directing the high school marching band program, and directing the 5th-12th concert bands. His professional affiliations include the College Band Directors National Association (CBDNA), Washington Music Educators Association (WMEA), and the Ohio Music Education Association (OMEA) where he served as the District XIV Secretary and Treasurer from 2016-2018.
Additional Courses
MUSED 442: Instrumental Curriculum: Methods and Materials - Teaching Assistant
Resources and Related Links:
Professional Affiliations:
College Band Director's Association (CBDNA)