Submitted by Joanne De Pue on
Of all the professors Joan Catoni Conlon studied with while a student at the University of Washington School of Music—years before she launched a successful career as a choral conductor, author, and professor— two of them—Gerald Kechley and Miriam Terry—were especially important and formative.
Conlon, whose career included her longtime service as a professor of choral music and conducting at the UW School of Music, recalls the profound influence of Miriam Terry, a professor on the School of Music faculty for 45 years who led the UW's Collegium Musicum and introduced Conlon to the delights of Henry Purcell, of Scheidt, Schein, and Schuetz, of Buxtehude, and, most importantly, of Claudio Monteverdi.
 "Miriam loved the revolutionary aspects of Monteverdi's late compositional style," Conlon says of the composer who later became a focus of her own scholarly research, "and enjoyed the daring drama therein." Conlon's studies of the composer included her master's thesis on the composer's Eighth Book of Madrigals and a book, Performing Monteverdi: A Conductor's Guide.
Conlon became acquainted with Professor Kechley, she says, through theory courses she had taken with him throughout her studies, as well as his direction of the University Madrigal Singers, the precursor to today's UW Chamber Singers. "The Madrigal Singers' performances were the ultimate in polished and sensitive choral music," she recalls. "They sang both early and contemporary music, including many of Gerald Kechley's compositions, and their wonderful concerts always were at the highest level." Along with unforgettable choral performances, an especially memorable highlight of her UW education, she says, was hearing performances in the old Meany Hall of Kechley's opera, The Golden Lion. "The beauty of the music in The Golden Lion and the dramatic themes—love and renunciation, again created lifetime memories," she says.
Miriam Terry retired from the University in 1975 and Kechley in 1989, but Conlon has never forgotten them, though she has been retired herself since 2009, after serving since 1995 as professor of music and director of graduate choral research at the University of Colorado, Boulder.
Pictured left to right: Frank Conlon, Gerald Kechley, and Joan Catoni Conlon
Recently, indelible memories and impressions of her years as a student at UW inspired Conlon and her husband, Frank, a retired UW professor of history, to make an enduring tribute to these two special School of Music educators, creating the Joan Catoni Conlon Endowed Fellowship in Choral Studies to Honor Gerald Kechley and Miriam Terry. In addition to honoring two longtime former UW faculty members, the fund provides a permanent source of financial support for graduate students earning master's or doctoral degrees in the Choral Conducting program at the School of Music.
"We are humbled and deeply grateful for the Joan Catoni Conlon Endowed Fellowship in Choral Studies to Honor Gerald Kechley and Miriam Terry," says Giselle Wyers, chair of UW Choral Conducting. "A new generation of choral conductors are earnestly developing their skills here with a goal of being inspiring and making an impact on a national level, through service, creative activity, and teaching. We are so glad to be able to offer them this additional avenue of support."
As former UW faculty, the Conlons were able to enhance the impact of their gift through the Faculty-Staff-Retiree Endowment Matching Campaign for Students, which contributes matching funds from the University to increase the impact of endowments created by current and former UW employees.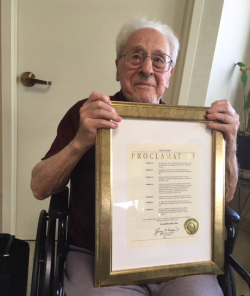 In March of 2018, the mayor of Seattle proclaimed his 99th birthday Gerald Kechley Day.
Professor Kechley, a Washington state native who earned bachelor's and master's degrees at the UW School of Music in the late 1940s and early 1950s, joined the UW faculty in 1955 as a professor of composition, serving until his retirement in 1989. During his long career he composed orchestral, choral, and opera works, many presented at the University of Washington and other regional arts and educational organizations. In March of 2018, the mayor of Seattle proclaimed his 99th birthday Gerald Kechley Day in honor of his contributions to the regional arts worlds and to the lives of the students he taught.
"The story of this new student endowment at the School of Music is especially wonderful because the honorees, Gerald Kechley and Miriam Terry, both earned music degrees at the UW in addition to their long service on the faculty," says Richard Karpen, director of the School of Music. "Joan Catoni Conlon also earned multiple degrees at the School of Music before becoming a beloved faculty member here. We are honored to recognize their generous support for our students as well as all of the wonderful School of Music connections their gift represents."
The UW School of Music celebrates the establishment of the Joan Catoni Conlon Endowed Fellowship in Choral Studies to Honor Gerald Kechley and Miriam Terry with a special concert on Sunday, Nov. 18, 7 p.m. at Brechemin Auditorium. The concert features UW voice and choral students and Kechley family members performing instrumental and vocal music by Gerald Kechley, including excerpts from his opera The Golden Lion and other works. Admission is free, but registration is required.
More details about the concert are available here.